A local high school student has spent the last few days recovering after achieving a goal even the most active adults never will — finishing an ultra-marathon.
Oro-Medonte resident Ray Ray Gingras, 15, along with his mother, Virginia, travelled to Ithaca, N.Y., this past weekend to compete in the Cayuga Trails 50-kilometre race, described as one of the most scenic courses in the United States.
Ray Ray, who's a student at Barrie North Collegiate, started running when he was 12 on the trails in the Copeland Forest, just outside his family's Horseshoe Valley home.
While he began running as a hobby, and touts the many benefits it brings him both physically and mentally, the teen recently realized he wanted to really challenge himself.
"I have always been into family sports that I would do with everyone in my family," he explained. "We have always been into biking, hiking and skiing. I grew up with those sports and in the past two years began running, which my mom had been doing for a while."
When he was younger, he says he remembers going out to races in support og his mom, "but I never really got into it until about two years ago," he said.
Sunday's race served as a significant milestone for his long-distance running journey.
"Last year, I did a 28-kilometre race in the woods and after that I wanted to go to the next level, which would have been a marathon, but my mom pointed out this race because she'd done it before, so we bumped it up to an ultra-marathon, which was a challenge I was excited about," Ray Ray said.
He says he spent most of the winter training for the big day.
"I started training for this about the end of December … and I would do one long run every week with two to three smaller activities in between. As soon as the trails were open and ready, I got onto the trails," Ray Ray said.
Getting to run the race with his mother, he added, was a once-in-a-lifetime experience.
"This distance and this particular race was very challenging, so it was important to me to have that support system. The last race I did I did on my own which was a good experience. It was a really good bonding experience to be able to complete that with her and it's something she's passed on to me," he said.
Although gruelling, the teen said he's extremely proud of his achievement.
"The course … is all along these waterfalls. There was a lot of climbing involved … and that's what makes trail running so interesting is that you get to go through a lot of different terrain," Ray Ray said. "This one in particular had over 2,000 metres of elevation, which just puts into perspective the amount of climbing.
"It was very challenging to keep on going … but then you got to see all of that scenic environment," he said of the race
Ray Ray had initially just set himself a simple goal for his first ultra-marathon — just finish. But he did much more than that
"My goal was just completing it, and for a person of my age that was a big goal," he said.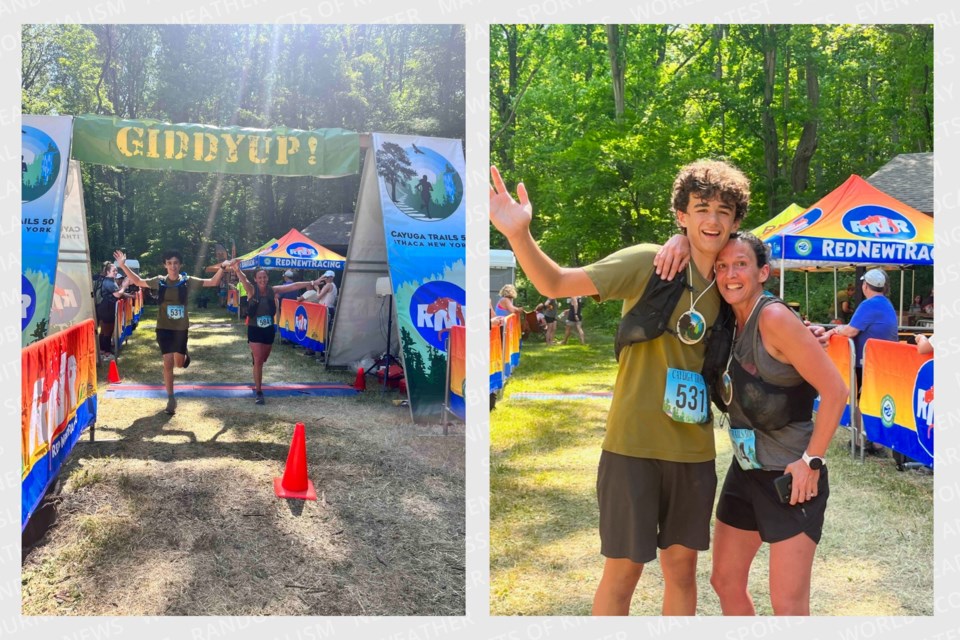 He finished 57th out of 177 racers, crossing the finish line in seven hours and 30 minutes.
"To me, that was a really good achievement to be in that middle-of-the-pack area. A lot of people running this race are experienced runners who have built up their quads and are very knowledgeable in the sport of trail running and have been doing it for a while," Ray Ray said.
Virginia, who has run many races over the years, admits she was initially hesitant to agree to allowing her son to participate in the race, but after watching his love for trail running over recent years, she ultimately conceded.
"When he asked me to do the 50, I at first said no, and then I said I would do it with him. I have ultra-run quite a bit and seen things happen to the most fit people in the world if they don't properly hydrate and eat the salt pills at the right time … (so) I needed to be beside him."
Ironically, she added, during the final 10 kilometres of the race, Ray Ray ended up passing her.
"He was like a horse kicking to get out of the stall — I couldn't keep up. Then at the end, it was so cute because he waited. I had been begging him the entire time to cross the finish lines holding hands and with our arms in the air, but a 15-year-old boy isn't really into that," she said.
However, about five hours into the race, she says Ray Ray finally agreed.
"He stopped before he turned the corner and he put out his hand," Virginia said. "It was one of the most amazing experiences of my life as a mom."
Although Ray Ray is still in recovery mode, he says he's excited to find other challenges to take on in the future, and is looking forward to hitting the trails again soon.