An Orillia resident celebrated his 100th birthday earlier this month.
Don Moreton, who was born in Windsor on Sept. 4, 1923, was raised during the Great Depression.
"We were very lucky that my father was the manager of a plant," he explained. "He didn't get many raises during that time, but he didn't lose his job or anything like that and we had plenty to eat."
Moreton remembers spending the winter months of his childhood in school and his summers at Ipperwash Beach at the cottage which his family has owned now for around 100 years.
Moreton knew from a young age that he wanted to be a chemical engineer and went to Queen's University during the Second World War, graduating in 1945.
He then joined the army until the war ended later that year, but never ended up leaving the country, unlike his older brother who served overseas as a member of the Royal Canadian Air Force.
Upon graduation, he got a job in the petroleum business. "It's what I did for the rest of my career."
Moreton didn't retire from his job at Shell Canada until he was almost 84. He worked on special projects in various countries including Pakistan.
"I was just having fun doing engineering work working in different countries around the world. I was also very good at it, otherwise they wouldn't have hired me," he quipped.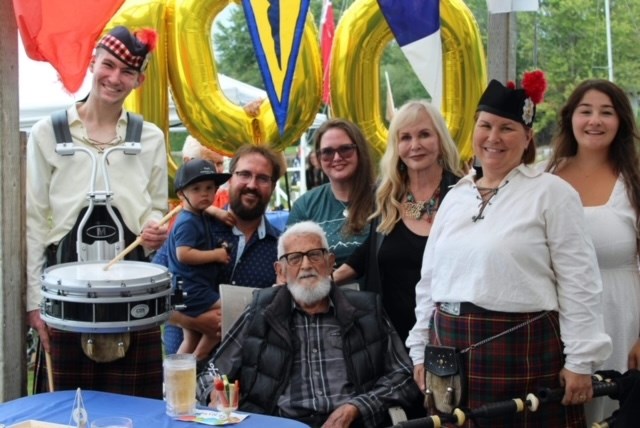 Moreton has three children from his first marriage and two from his current marriage; he also has five grandchildren. He and his wife, Louise Fox, tied the knot 43 years ago after meeting each other on a plane flying out of Saskatchewan.
"Louise was sitting behind me and she was watching me looking out the window," he explained. "She came up and sat beside me and asked what I was looking at which was where the prairies turn into the Canadian Shield."
Louise found Moreton to be interesting and charming, and the feeling, he said, was mutual.
"The next day I gave her a call," he explained. "The rest is history and we've tried to make every day count since."
Moreton says his family has been "100 percent the force behind" his happy life. He's been very involved in the lives of his children.
"I didn't have a regular nine-to-five job," he said. "I had a lot of time for family and the things that I wanted to do."
Moreton has spent a lot of his spare time at the Champlain Sailing Club where he has won many races.
"Winning a race doesn't do that much for me anymore, because I've won so many of them, but it's still a lot of fun," he said. "I enjoy the companionship."
Even at 100, Moreton says he doesn't have any serious physical or financial challenges.
"I chose my parents very well," he joked. "They gave me very good health and genes."
Moreton says he has taken a healthy approach to life, which may be the secret to making it through 100 years of good health.
"I've always eaten in moderation," he said. "I never ate too much; I never had any compulsiveness with sweets. Same with alcohol, I would have a drink, but would never get drunk."
Another one of Moreton's secrets to his long life has been his approach to everyday problems and challenges.
"I see problems as to what they really are," he said. "If you approach a problem in a logical way, it becomes almost a part of a game."
Moreton says he feels fortunate to still be living alongside his wife and family at 100 years old.
"It's been a very rewarding and fulfilling life as far as I'm concerned," he said.