Mariposa House Hospice kicked off its Angel Tree campaign with a tree-lighting ceremony Thursday evening at Mariposa Market.
The campaign is one of the signature fundraisers for Mariposa House Hospice annually. It was started in 2017 to help build the hospice on Brodie Drive.
Residents are encouraged to make a minimum donation of $10 to place an angel with a personal message on the tree in Mariposa Market.
"We give everyone the option to write a message," said Lynn Thomas, donor relations co-ordinator for Mariposa House Hospice. "If they just want to write a person's name, we'll do that, but a lot of people put some really nice messages."
Thomas says people enjoy reading the messages while visiting the downtown Orillia landmark. She also thanked Mariposa Market owner Bob Willsey for allowing the organization to display the tree every year.
The tree has made a "big impact" on the community, she says.
"The holidays aren't always easy for people," Thomas said. "A lot of people have gone through some pretty devastating loss during the year, so Christmas isn't something they are necessarily looking forward to without their loved one."
She says the tree gives people an opportunity to honour their loved ones who have died or are battling tough times.
"It's been very meaningful. Before I was involved with the organization, I've placed one on the tree every year for my dad and sister," she said.
"It's a way to acknowledge our own grief during the holiday season. This is also a way for the community to support each other."
Thomas says the tree also raises awareness about Mariposa House Hospice.
"There are a lot of people who have no idea that we even exist," she said.
Two weeks ago, Mariposa House Hospice surpassed its 200th resident since opening in February 2021.
The money raised from the tree now goes toward operating costs.
"Our services and care for our residents and their families are at no charge," Thomas said. "We have 24-hour medical staff, personal support workers, plus other staff as well."
While the Ministry of Health gives Mariposa House Hospice some funding annually, the organization still needs to raise more than $800,000 a year in order to provide its services free of charge.
The fundraising goal for the Angel Tree campaign this year is $20,000.
"We hope that people will take a moment to give back to (Mariposa House Hospice)," Thomas said, noting the final opportunity to purchase an angel will be Dec. 22.
Kristopher Orchard inaugurated the tree in Mariposa Market with his husband Jamie Campbell six years ago after learning about Brenda Stanley who created the first angel tree in 2003. Stanley came up with the concept as a way to honour her mother, who struggled for many years with heart disease, diabetes and cancer.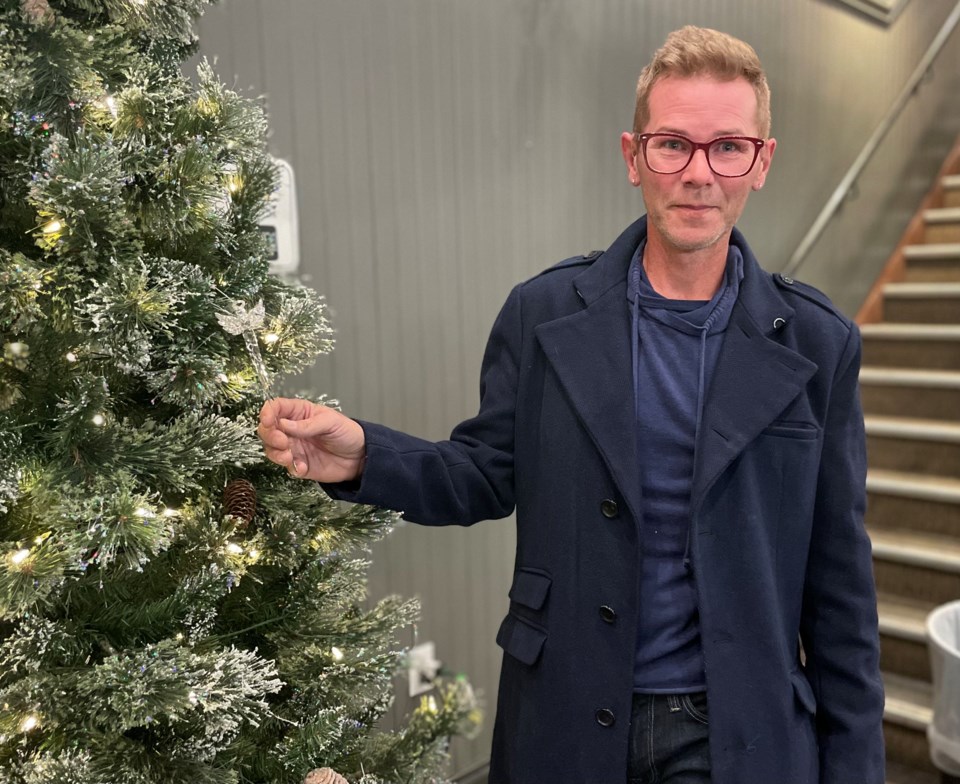 For Orchard, the tree has an exceptional meaning this year.
"It's been three weeks since I lost my own father," he said while fighting back tears.
Orchard says the tree brings out real emotion for people during the holiday season.
"There are a lot of people who sometimes don't get to share a really interesting memory about a family member who they have lost," he said. "Memories are very important, but remember, the spirit of the person is still here."
Mariposa House Hospice co-chair, Sue Morris, has worked closely each year with Orchard to organize the fundraiser.
"It's very important to remember people that you've lost," she said. "I've lost both of my parents and some significant people in my life and it's just important to raise money for Mariposa House Hospice in their memory."
More information about the campaign, including how to place an angel on the tree virtually, can be found here.