On Wednesday night, at the NHL entry draft in Nashville, Orillia's Colby Barlow is expected to be selected in the first round. If that happens, he will be the highest draft pick from Orillia in the city's history. This is the second of a two-part feature on Barlow and his journey. Click here to read the first story. OrilliaMatters reporter Tyler Evans will be in Nashville to provide extensive coverage of the draft.
Hockey is a team sport on the ice. The same is true off the ice.
Colby Barlow is the first to say it has taken a village to put him on the cusp of the big leagues.
On Wednesday night in Nashville, Barlow is expected to be chosen in the first round of the NHL entry draft — something that comes as no surprise to most of his family, friends, coaches and supporters.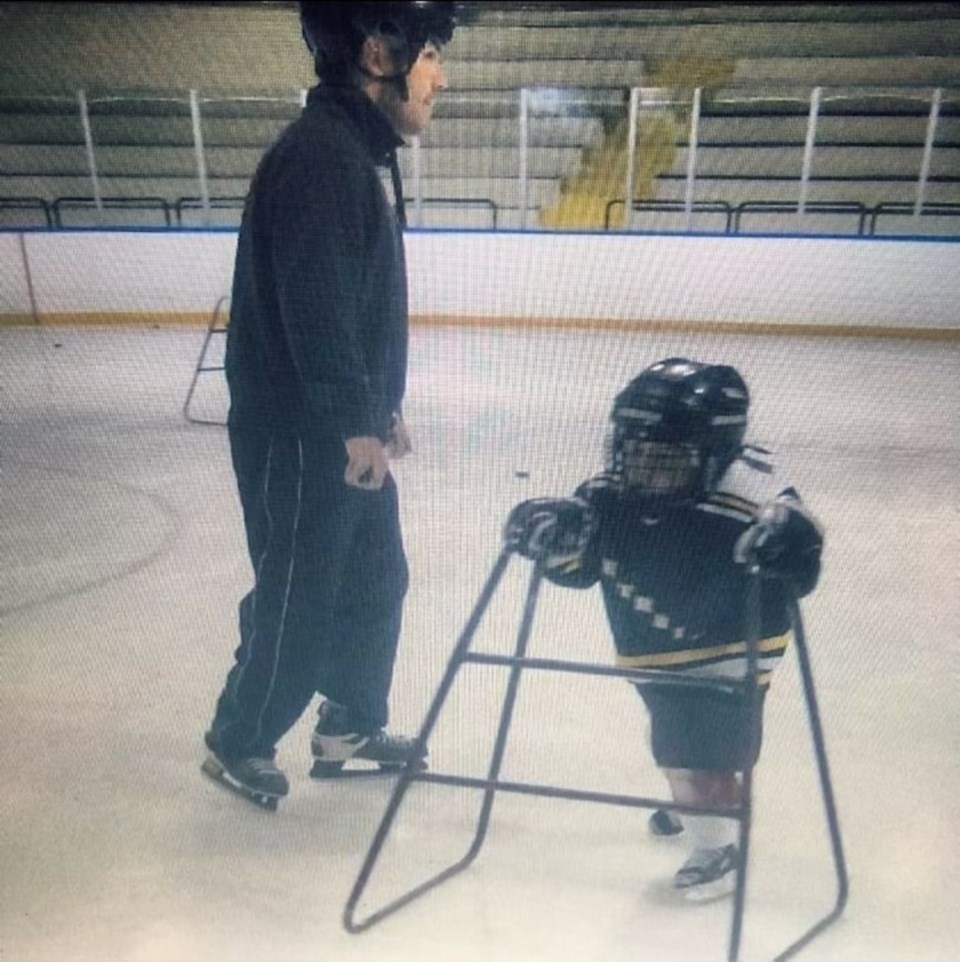 The future NHLer started skating when he was three during open ice sessions in Gravenhurst with his father, Dean.
"It was just him and I," Dean recalled. "He had the little 'walkie' and we zipped around while I showed him the real basics of skating."
While Dean was Colby's first coach, the youngster also learned about the importance of sports from his mother, Carla Calverley.
"I played every school sport," Calverley said. "I did track, soccer in the summer, and I was a figure skater."
While she says she wasn't an elite athlete, it was important for her to teach her three sons — Carter, 24, Colby, 18, and Kiefer, 14 — the importance of being physically active and participating in team sports.
"From a very young age, I would sign them up for activities where they could be active," she said. "When Colby was three, I coached his T-ball team out in Washago. We would do everything that we could to make sure that all of them were involved with whichever sports they chose."
Colby liked boating, fishing, and playing lacrosse while growing up, but his passion in the winter was always hockey.
"While watching hockey, he would be taking notes about how Auston Matthews shoots," Calverley said. "He would dissect it and look at how he does it ... Everything was hockey."
Growing up, Colby would play for a Stanley Cup made from a Molson Canadian Bubba in his Severn Bridge garage with his older brother and his friends.
"That was pretty competitive, and it was almost every weekend," Colby said. "I always wanted to play with my older brother and his buddies, so I've obviously taken a few beatings from them."
Brotherly love
Carter confirms he and his friends never took it easy on Colby and they never slowed down the pace for him.
"If he wanted to play with us, that's what he knew he had to do," he said with a chuckle. "We had a lot of fun together."
Colby says his competitive edge came from those tough road hockey battles.
"When you have two brothers, you are always fighting for everything," he said. "I would do whatever it takes to play road hockey and mini sticks with my brother and his friends."
Despite the six-year age gap, Carter says he wanted to share his love for the game with Colby, which is why he always let him play with him and his friends.
"We are best friends," Carter said. "Even with things not related to hockey, I try to always be there for him."
Kiefer and Colby have a similar relationship.
"We used to always play mini sticks, hockey on the pond, and roller-blade hockey," Kiefer said. "Colby would always challenge me the same way Carter challenged him."
Early on, Colby distinguished himself on the ice. When he was seven, he was granted 'exceptional status' to play his first year of rep with eight-year-olds on the novice A Orillia Terriers.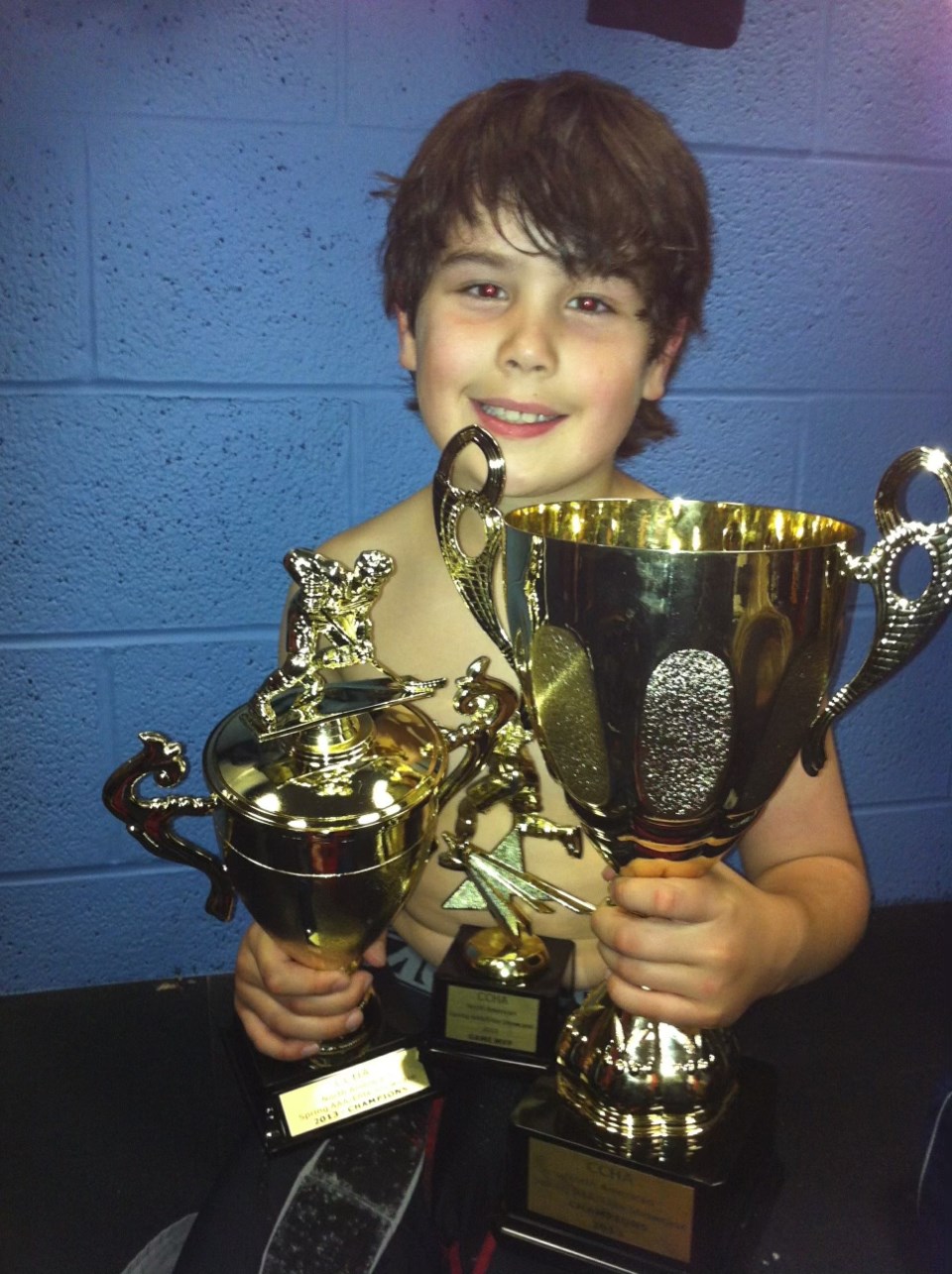 "He was the only underage kid we had on that team," said the squad's head coach, Mike Holenski. "He could have been our best player. Right from the get-go, you could see the talent in the kid."
He says Colby's attention to detail, even at seven years old, is what made him stand out from the pack.
"When I would be explaining the chalk talk in the dressing room, pre-game, and at practice, he would be laser focused," he recalled. "He was like a racehorse — the harder you worked him, the happier he got."
Colby had a great shot, even back then, Holenski remembers.
"He's got an Auston Matthews-type release with his shot," he said. "He's been scoring big goals even back in those novice days."
'Hometown hero' is born
During the final game of the Ontario Minor Hockey Association championships in March 2014 versus the New Hamburg Huskies, with 4:46 remaining in overtime, Holenski's son, Austin, scored the provincial title-winning goal off a pass from Barlow.
"It was bananas in that arena," Holenski remembers. "It was pretty cool."
From that day on, Holenski says, Barlow became a "hometown hero" in Orillia.
At the age of 10, he played in the 2015 Brick Invitational in Edmonton, one of the country's most prestigious events. He scored four goals — three were game winners — and added four assists in round-robin play. During the playoffs, he scored four more goals including another game winner.
Barlow was named the first star of the game four times during the 10-day tournament at the Ice Palace in the West Edmonton Mall, leading his Toronto Bulldogs to the championship. It was at that moment Carter knew Colby was bound to do "great things."
"To see him do so well against the best kids in North America at that age was a good indicator," he said. "He had things to work on, but the mind and attitude were there."
After just one season with the Terriers, Colby graduated to the North Central Predators AAA program headquartered in Rama, where he played three seasons, again under exceptional status. The organization's vice-president, Rich Foshay, says Colby checked all the boxes required to play with the next age group.
"Maturity level, skill level, impact on his team ... he was terrific on all of those pieces," he said. "He was the hardest-working kid. He came from a great family, and he was the best player on his team."
In Foshay's 10 years with the organization, only three or four times has a player been allowed to play in the age group above them.
Making a move to chase his dreams
When Colby was 12 years old, he moved to Vaughan with his father to play for the Toronto Junior Canadians of the Greater Toronto Hockey League.
"Colby started making some connections, and people really wanted to work with him," Calverley recalled. "Going down there was something he really wanted."
While living over an hour away from home, Dean was commuting back and forth to Beaverton five days a week to work at Fisher's Your Independent Grocer, where he has worked for 14 years — and now is the manager.
"With Carla and I being split, we made the decision to let Colby pursue his dreams," he said. "We had contacts down there that wanted to help Colby with his schooling and training, so we thought, 'Let's give it a chance.'"
At first, Colby says, it was difficult leaving behind his friends and life in Orillia.
"I think it was kind of hard to understand why I'm doing this at a young age," he said. "I was 12 years old playing hockey for fun and I wasn't really thinking of what's coming up."
Despite the challenges of leaving home, Dean says, Colby never complained.
"This wasn't a parent-driven thing where we said, 'You are going to make the NHL,'" he said. "That was never the vision to start with. I'm sure that was on his mind, but as parents, we were focused on him growing as a person and giving him the opportunities that maybe wouldn't be there if he stayed in Orillia."
Calverley says she and the family kept "putting things in place" for Colby to keep pursuing his dreams, but it was always Colby who was at the steering wheel.
"We never said to him, 'We want you to play in the NHL,'" she said. "We wanted to support his dreams and wanted to do what we needed to do to get him to where he wanted to be."
Colby settled in quickly and made new friends and connections at Everest Academy, a school with a hockey-focused curriculum.
"It all worked out for the better," Colby said.
Calverley, who stayed home with Carter and Kiefer, says it was "difficult" for a mother to go through, but she didn't want to hold Colby back.
Calverley says Colby's brothers understood he was going to move away from home to follow his dreams. They would go to Toronto every weekend to pick him up and bring him back to Orillia to help make the transition as easy as possible for him.
"We wanted to keep him grounded with his family, seeing his brothers and extended family," she said. "I would try to pop down sometimes on an evening to go and say hi and take him out for dinner."
When Dean would go back home to spend time with his two sons, Colby stayed with Amy Beiers and her husband, Chris, in a full basement apartment.
"I had to balance both lives equally," Dean said. "Without the help of the Beiers (family), where Colby is at now isn't even a reality."
Colby went to Monsignor Lee Catholic School with Beiers's two boys, Chase and Taylor. He was also teammates with Taylor when he played with the Predators and he was coached by Chris.
"We had extra bedrooms in the basement, so we offered for them to stay at our place while they figured everything out," Amy said. "It gave them a home base here and a place to stay."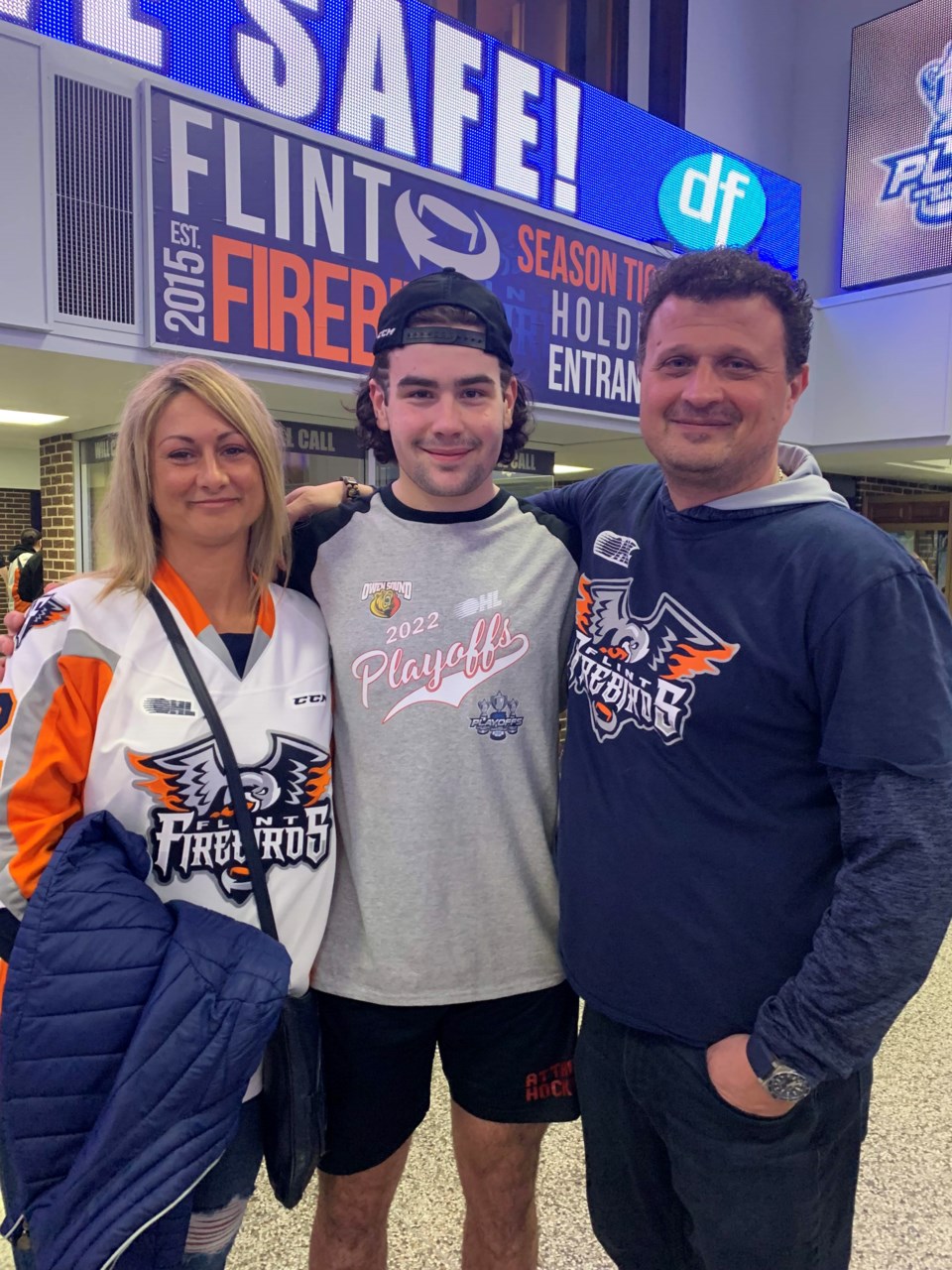 Beiers says the two families had a lot of fun living together and they grew close.
Dean says he would have never been able to afford to live in two cities to support Colby's journey without the Beiers taking him in.
"I work in a grocery store and I'm not rich by any means," he said. "Without sponsorships and people like Chris and Amy ... where Colby is now isn't a possibility."
When Colby was 12, his schedule was busy and he was training every day before, at and after school. The schedule was even busier for Calverley and Dean, who were raising two other boys who were pursuing their own hockey careers in Orillia.
"We would always try to make it to everybody's games," Calverley said. "Sometimes it didn't work, and the boys were understanding of that. They didn't get upset."
Both of Colby's brothers are happy for him and are excited for him to be pursuing his dream.
"I realized that he was taking it really seriously and was playing at a really high level," Kiefer said. "I knew he was going to make it somewhere."
Carter says he has many good memories of travelling all over the province to support Colby and it's made him and his family closer in some ways.
"There were some sacrifices along the way," he said. "It all worked out and it was well worth it."
While the Barlow boys were competitive when playing against each other, they have always been supportive of one another.
"It's great to have a brother who is having so much success," Kiefer said. "I'm really proud of him all of the time."
After four years of living with his dad in Vaughan, Colby moved in with the family of his Toronto Marlboros teammate and North York native, Tristan Bertucci. Bertucci, now a defenceman for the Flint Firebirds, is expected to be selected in the second round of the NHL draft this week.
Colby met Tristan at the Brick Invitational, where they were teammates; they have been close friends ever since.
"I lived with them throughout the week, went to school, went to hockey, and did that until I was drafted into the OHL," Colby said, noting he still lives with the Bertuccis in the summers.
'It's kind of hard to take in'
The Bertucci family took Colby in as one of their own and made sure he had everything he needed to succeed.
"They took him to practice, they fed him, and they would sometimes keep him overnight if I needed to work early in the morning," Dean said. "It was a real juggling match, but it worked out really well because everyone was so supportive."
Tony Bertucci, Tristan's dad, says Colby is a "beautiful" kid and stressed it was more of a pleasure for his family to have him living there than it was helpful to the Barlow family.
"If not like our own, he's just as good, if not better, than our own," Bertucci said with a laugh. "Colby is a part of everything in our family and our family functions."
Bertucci says he always told the boys growing up to work hard, have fun, and everything else would fall into place.
"To be honest, in all of those years, I just liked to have fun with them and to be a family," he said. "I never imagined they would get to this level ... and it's kind of hard to take in right now."
Another key supporter of Colby over the years was Orillia's Andy Long, the owner of Millwood Logistics. From the time Colby was six, Millwood Logistics sponsored him, and the company name was on the back of Barlow's Terriers and Predators jerseys.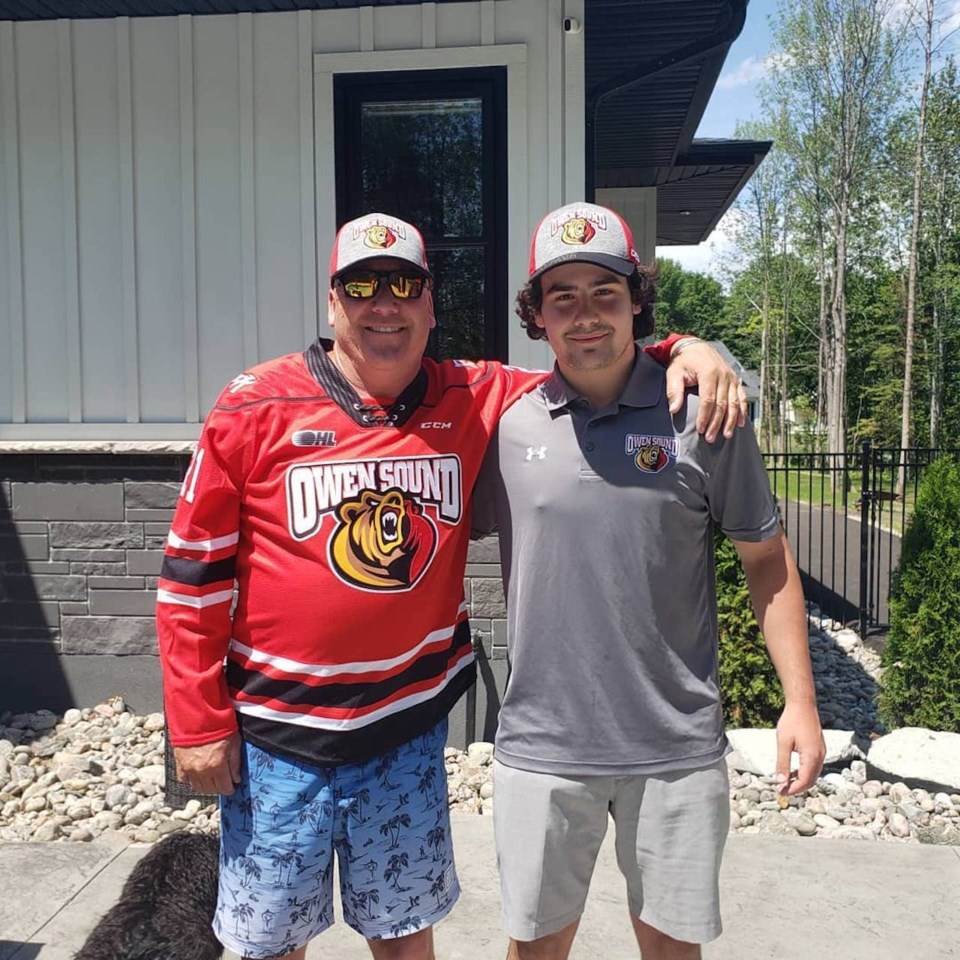 "I saw a boy with a dream and a skill set to match," Long said, adding his son, Cooper, is friends with Colby. "I wanted to help in some way, and financially was the way I could do it."
He says Colby, even as a child, was a young man among boys and was "truly unique," which is why he wanted his business to be on the back of Colby's jerseys through his career until he made the OHL.
"Every kid's dream was to play in the NHL, but I certainly knew he would play at a high level in some place," Long said. "I knew that early on, watching my boys play shinny together with Colby, his skill set, his maturity level, his focus — you could see it all."
He says all the accolades Colby is accumulating are proof of that.
"He's got all the qualities of a great athlete and a great person," he said.
Making the OHL grade
Not even five per cent of athletes who play amateur hockey in the Canadian Hockey League (CHL) or NCAA make it to an NHL roster, which is why, despite his dominance, Colby didn't have an inclination he could make the NHL — until his rookie OHL season with the Owen Sound Attack.
"I was playing through minor hockey and thinking that playing in the NHL was my dream," he said. "I didn't really realize how well I was doing, in a sense, where I realized it's a possibility."
In the midst of his rookie campaign, when he scored 30 goals and added 17 assists in 59 games, Colby, who was 17 at the time, realized he had a legitimate chance of playing professionally.
"It really set in," he said. "It's actually real now. Here we are coming up to the draft."
When Colby was about 10, Calverley remembers she was approached by other parents and coaches who told her Colby would go all the way.
"He was always invited to the next thing," she said. "Whether it was a tournament or a particular league, he always excelled."
When Colby was drafted to the Owen Sound Attack eighth overall in 2021, Dean was impressed by how his son fit in with the veterans on the team and how he evolved as a person.
"Fairly quickly, the coach relied on him in situational play on both the power play and penalty kill," Dean recalled. "He was evolving as a player, in school, and he was a leader of the team at the end of his first year."
Prior to the 2022-23 season, the Attack named Barlow the youngest captain in franchise history, which came up a lot in his pre-draft meetings with NHL teams.
"They always asked me how I dealt with certain situations," he said. "They asked where my leadership qualities come from."
His past coaches and teammates say he is a natural-born leader. When Holenski was coaching him, he says, the way Colby carried himself off the ice was even more impressive than his on-ice talent.
"He was pretty impressive," he said. "I give his parents a lot of credit for the respect he had for his coaches and elders. It was a big part of them."
Dean says he's always told Colby he shouldn't play for himself, stressing the team comes first.
"Having respect for your teammates matters more than anything," he said. "So is having respect for your elders, and I think that's why he did so well in Owen Sound right off the bat with some of the veteran players."
He says Colby has been taught to "earn" every part of his journey and understand success doesn't come easily.
"We wanted him to be thankful for everything everyone has done for him," Dean said. "This isn't just Mom and Dad; it's a community, friends, family and sponsors."
As a kid, Barlow stood apart: teacher
Part of that community includes his school community. Janet-Lynne Durnford, who taught Colby in Grade 5 at Monsignor Lee Catholic School, says he was a kind and inclusive student.
"I think everybody knows that there is often a bit of a hockey culture," she said. "Colby just didn't have any of that stereotypical hockey culture attitude."
She says Colby made friends easily and was well respected by his classmates and teachers.
When Colby played in the Brick Invitational, Durnford's entire class tuned in online to cheer him on.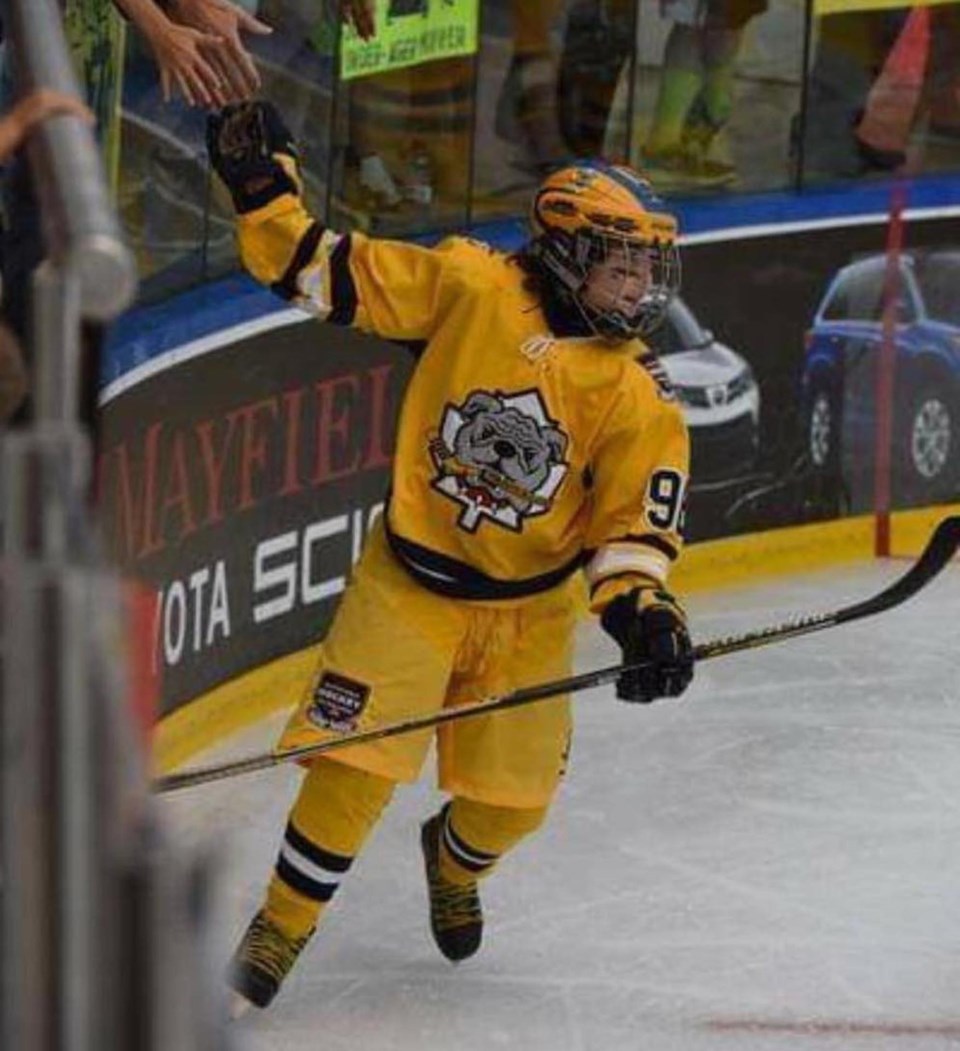 "Everybody was super-excited about it," she said. "I'm not a huge hockey fan, but I've followed the direction of his career as much as I can ever since."
Calverley says she and Dean always instilled kindness in their son.
"We set the example in our lives through being kind and doing things to help other people," she said. "I think also being a big brother has helped in that."
Colby is often described as someone who is beyond his years, which Dean attributes to growing up around his older brother and his friends.
"They always challenged him," he said.
Derik Hamilton, a childhood friend of Carter and Colby, says even when they used to play road hockey in Severn, the six-year age gap between his friend group and Colby never felt that far apart.
"He's always been ahead of his age," he said. "He was always the kid with a good head on his shoulders who made you believe he was going to accomplish anything he put his mind to."
In April, Colby was named the OHL's Scholastic Player of the Year. Then, at the Memorial Cup in Kamloops, B.C., earlier this month, he was named the CHL's Scholastic Player of the Year.
He earned an overall average of 93 per cent across Grade 12 university-level courses at Owen Sound District Secondary School. It was challenging to pull off the impressive report card, but it was important to Colby to do well at school.
"I've always believed in expanding your mind," he said. "It can't always be hockey; I like to challenge myself in other ways to make other things easier."
When Durnford taught Colby, she says, his schooling was just as important to him as hockey.
"His parents really modelled that for him. They were super-supportive and really took school seriously," she said. "Hockey and school went hand in hand."
Colby says he had many tutors helping him before and after practices to balance his academics with his hockey career in Grade 12. He also credits his mother, a teacher at Regent Park Public School, for making education a priority in their household when he was growing up.
"I think I've instilled some good learning habits. Early on, I taught him the importance of doing his work first before he does other things," said Calverley, who was a professor at Georgian College prior to becoming an elementary school teacher.
"He went on to live the things I taught him. He did his work, got it done, and set the pace for himself where he was timing things correctly so he didn't run out of time for either of the things he loves. That sometimes meant cutting out some fun things in his life."
Colby believes his success in education will help him with the business and mental sides of professional hockey.
"At the NHL Combine, I met with 22 teams, and it was like a job interview over and over again," he said.
While he doesn't have a lot of spare time, he enjoys golfing with friends and family, especially his brothers. Kiefer even sometimes bests Colby's average score of 80.
"Most of the time, we are pretty competitive," Kiefer said. "We always egg each other on and try to one-up each other."
The older Carter gets, the more he has trouble keeping up with both of his brothers in all sports.
"I try to keep up in golf," he said. "I hang around a bit, but they are both better than me."
'There have been a few tears'
About 80 people from the Orillia area — including former teammates, coaches, family, and friends — will be attending the draft in Nashville on Wednesday to support Colby.
As a parent, Dean says, the days leading up to when Colby's name is called by an NHL general manager have been emotional.
"There have been a few tears," he said. "Knowing there is such a support group coming down to Nashville for Colby and having the support of the community, it's pretty cool."
Going into the draft, Colby doesn't have a goal of where he would like to be selected. He says he will be "honoured to wear the jersey" of any of the 32 teams.
"I think I put myself in the best position throughout the year," he said. "I did all my talking and believing with the way I played through the season, from start to finish, so I'm going to let that talk for itself."
Whichever team Colby gets selected by, he says they will be getting a "good, grounded person."
"I work hard on whatever needs to get done each day," he said. "I play at both ends of the ice and can score as well. I play a complete 200-foot game with a strong competitive edge."
The only thing left to learn about him now is which team selects him Wednesday night.