Nick L'Ecuyer, Principal Broker at Mortgage Wellness, believes in looking after his customers…and his employees.
"My wife and I started Mortgage Wellness in 2009," L'Ecuyer reminisced. "We had a little office in the south end of Barrie, my wife did the filing. My dad joined us in 2010, it was a real, grassroots, family business, which grew organically, as we added other people to the mix, including my mom."
Eventually, the business grew enough that L'Ecuyer moved it into an old church at 35 Worsley St. in Barrie.
"We bought the building, and had 40 people working there," L'Ecuyer said. "It was a real family, our babies were there playing, we all worked there together. At one point, I had this fantasy of moving my whole family into the upper level and living there, I had it all worked out…but my wife pretty well thought that was crazy," he laughed.
In 2021, L'Ecuyer sold the church building and had a different idea.
"I was thinking about how to grow the business, how to retain our wonderful employees…how to dig into being awesome, how to help our employees dig into being awesome," he said. He did some research and L'Ecuyer decided to offer some of his employees the opportunity to buy into the company, through an Employee Share Ownership Plan (ESOP).
"I sold 49% of the business to our sales manager, our finance manager, our compliance manager, and our two top salespeople," said L'Ecuyer. "So, now they have ownership of Mortgage Wellness as well," he finished.
Ashley Leng, Partner and Financial Controller added, "So many positive outcomes have come throughout this process. We now work towards the company's goals together. We prosper individually and as a collective unit."
Mortgage Wellness opened smaller offices, two in Barrie, one in Elmvale, and one in Orillia, so the new partners could be located in the community and part of the community, running their own small business.
Mortgage Wellness staff and offices have contributed to the community too, helping to get AEDs In Innisfil and Orillia, as well as supporting local charities such as the food bank and Walk A Mile in Her Shoes.
"It's done a lot for me and for our new partners," said L'Ecuyer. "You can see the pride they feel when I introduce them as a partner, and I feel pride too. It felt like the right thing to do, to acknowledge they are a huge part of who and where Mortgage Wellness is today."
Newly minted Partner and Senior Mortgage Planner, Shawna Harrison, agreed. "I joined Mortgage Wellness almost 13 years ago as a new mortgage agent and am so proud to have now joined the ownership team. To have found a career I love, and now to be part of a company that changes lives in the very community I was born and raised in, is such a blessing."
Mike Moore, Partner and Mortgage Planner confirmed, "It's a magical feeling being a part of something bigger. And it's a bonus to work with partners who share the same passion for the growth of Mortgage Wellness."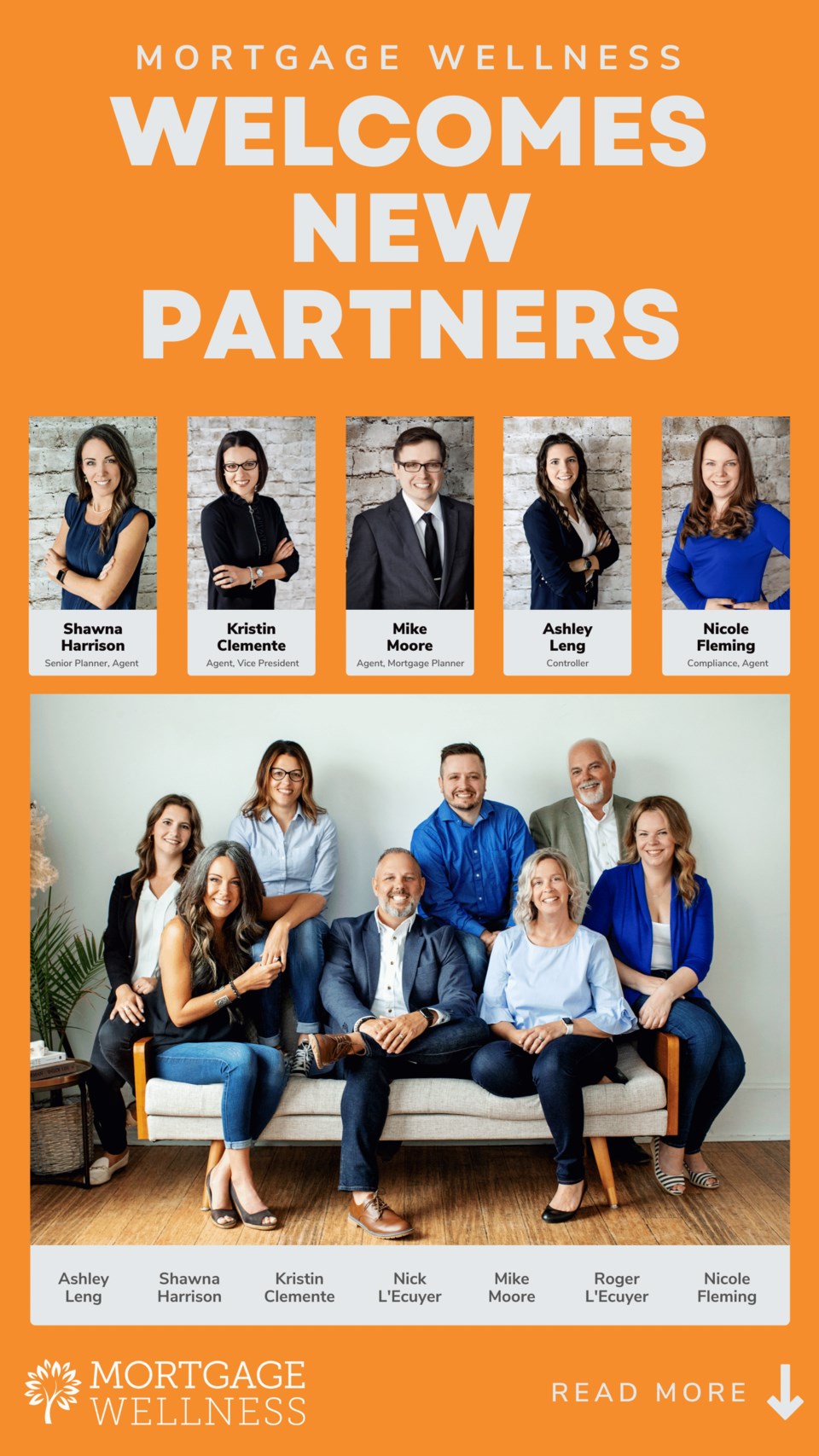 If you would like to support a business which believes in its community and its employees, reach out to Mortgage Wellness online.