Students enrolled in the Social Service Worker program at Georgian College have the opportunity to engage in experiential learning throughout the program.
Dr. Mary Louise Noce, Dean of Human Services and Community Safety says, "It is in large part because of our counselling labs that students who graduate from the SSW program at Georgian College gain the capacity and skills to develop strategies to support individuals, families, groups, and their communities." The counselling labs allow students to role play and practice their skills within mock scenarios.
Building skills with Articulate
Learning is enhanced with scenarios that the SSW program has developed through a platform called Articulate, which is a digital tool embedded within the clinical skills courses.
Program co-ordinator Gisele Beausoleil says, "This digital counselling tool was created to generate the opportunity for previously hands-on, scenario-based training to be conducted online in an interactive environment where immediate feedback was provided."
This digital tool is accessible to students anytime and anywhere. It offers flexibility in learning interpersonal and clinical skills through instant feedback.
Leading social justice initiatives
SSW students are given support to become campus champions for social justice initiatives such as "Take Back the Night", Black History Month, Missing or Murdered Indigenous Women, and 16 Days of Action for the U.N. Declaration for Human Rights.
Beausoleil says, "Our students learn how to become social justice advocates to promote equity, diversity, and inclusivity. Organizing around such issues is a signature experience of the SSW program at Georgian College.
#ChangeTheNow
#ChangeTheNow is a program that is unique to Georgian College. It's a global movement to action small campaigns that can lead to big change towards the U.N. Sustainable Development Goals.
Noce says, "Georgian is an Ashoka U. Changemaker Campus. We're the only college in Canada with this designation. With it we join over 40 universities globally who are committed to cultivating a community of changemakers who transform institutions and cultures, supporting changemaking for the good of society."
Students work alongside a team and community partner to promote awareness around social justice issues and to initiate innovative solutions. Noce says, "They have been involved in campaigns to improve health and wellness, accessible transportation, and affordable housing."
Students can gain understanding of how agencies operate and the need for micro and macro approaches to complex problems. Noce says, "For example, students can see the issue from the perspective of the homeless individual. They're able to understand it from the perspective of the agency that is delivering the service, and they also see it with a macro lens from a policy response."
SSW students can participate in #CTN as a unique field placement and earn a Changemaker Micro-Certificate.
Field placements are essential
Field placements give students the opportunity to practice their skills within community agencies. It allows them to connect in-class learning to real-life challenges. Students also make contacts in field placements which often result in job offers. Enhanced opportunities are what led SSW graduate Martina Cole to Georgian College.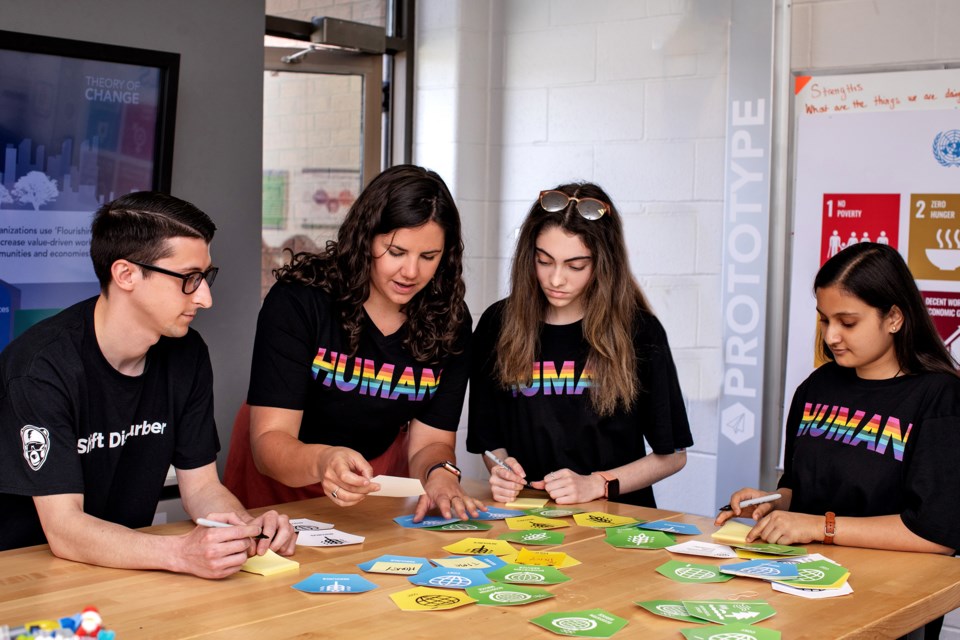 Martina says, "My experience in the program was certainly a positive one. The clinical classes and hands-on learning gave me the opportunity to build my skills, gain experience, and find the confidence I needed to support people in crisis." During her placement, Martina was offered a position as Volunteer Co-ordinator at Muskoka Parry Sound Sexual Assault Services.
Graduates have several pathways available to them, including further post-secondary education, as well as employment opportunities. They access jobs working with a range of people from youth in crisis to older adults needing support. There are numerous opportunities for the well-trained and in-demand SSW students to make a difference in their communities.
Ready to learn more? Visit GeorgianCollege.ca or contact Program Co-ordinator Gisele Beausoleil at [email protected]